Image by Fiona Glen
Cephalopodomania

[seh-fah-low-pod-oh-mania]

A short, assemblage-format book exploring contemporary cultural and technological fascinations with the octopus. Cephalopodomania follows the octopus, imitating its mobility and metamorphic nature, as it navigates between encounters with the 'real-world' animal and its various representations and applications as a metaphor, a model, and a mythic being.

Cephalopodomania was submitted as a manuscript of 20,000 words as my graduating project for the MA Writing programme at the Royal College of Art in 2020. It is still growing new arms, branching out to become a full-length book, and seeking a publisher to give it a physical body in the world.

Read an excerpt from the project in which I pay tribute to Disney's Ursula as a queer cephalopod outsider (available via Still Point Journal online).

Watch me reading an excerpt from the project in which we meet the octopus as a fantastical and entirely real being (available via RCA2020 Grad Show Vimeo).

Read an excerpt which investigates insecurity in the reckoning of monstrosity and otherness through the cephalopodic drawings and writings of three turn-of-the-century Great Literary Men (plus the occasional detour into Pink Floyd gigs and Pirates of the Caribbean). Published December 2021 by 3:AM Magazine.


Full description:

Through the salted waters they come, those loose-legged shapes with their unmistakable silhouettes forever changing. Through cyberspace they clamber, these spiders of the sea, these dream-like spooks who shift through every colour – underwater chameleons, with skin smoother than scales. Through literatures and caricatures, brand books and grassroots movements, they float and flicker in letters, pixels, ink, crystals. What is the trace – the lineage – of creatures like these? Are their meanings as unfixed as their form, their symbolisms as mysterious as their reaching minds? Where do these octopuses lead?

Cephalopodomania explores the contemporary cultural and scientific fascination with the octopus, with particular attention to the deeper significances of its familiar characterisations in popular culture. This short book follows the octopus, imitating its mobility and metamorphic nature, between 'real-world' encounters and myriad representations and interpretations of the animal as a model, myth, and symbol. Acknowledging that the octopus has diverse meanings across world cultures, Cephalopodomania addresses modern and contemporary Western conceptions of this animal. While some segments are fictional, the project is situated within a nonlinear account of a research journey.

Drawing inspiration from the octopus as a trickster, Cephalopodomania is playful, colourful, and curious. Fifteen semi-independent textual segments employ a range of registers. By allowing these to form in a non-uniform way, tied by open thematic paths, the project allows the reader to make their own tentacular links between diverse phenomena. Together, the fifteen patch-like segments form an assemblage. Mirroring the colour-changing nature of an octopus as it hunts, hides and communicates, each segment opens with a different colour-state, expressing mood and intention.

They pulse like the dozens of differently-coloured cells in an octopus's epidermis: cerulean, coral, ochre. Each opening is a new whisper: here be krakens. Here be dreadful monsters and utopian spirit-guides. Here be witches and women, aliens and alter egos, mystical icons and mirror images. Here be hope and fear, appropriation and obsession, the familiar and the other.

Here we are, with our fellow beasts.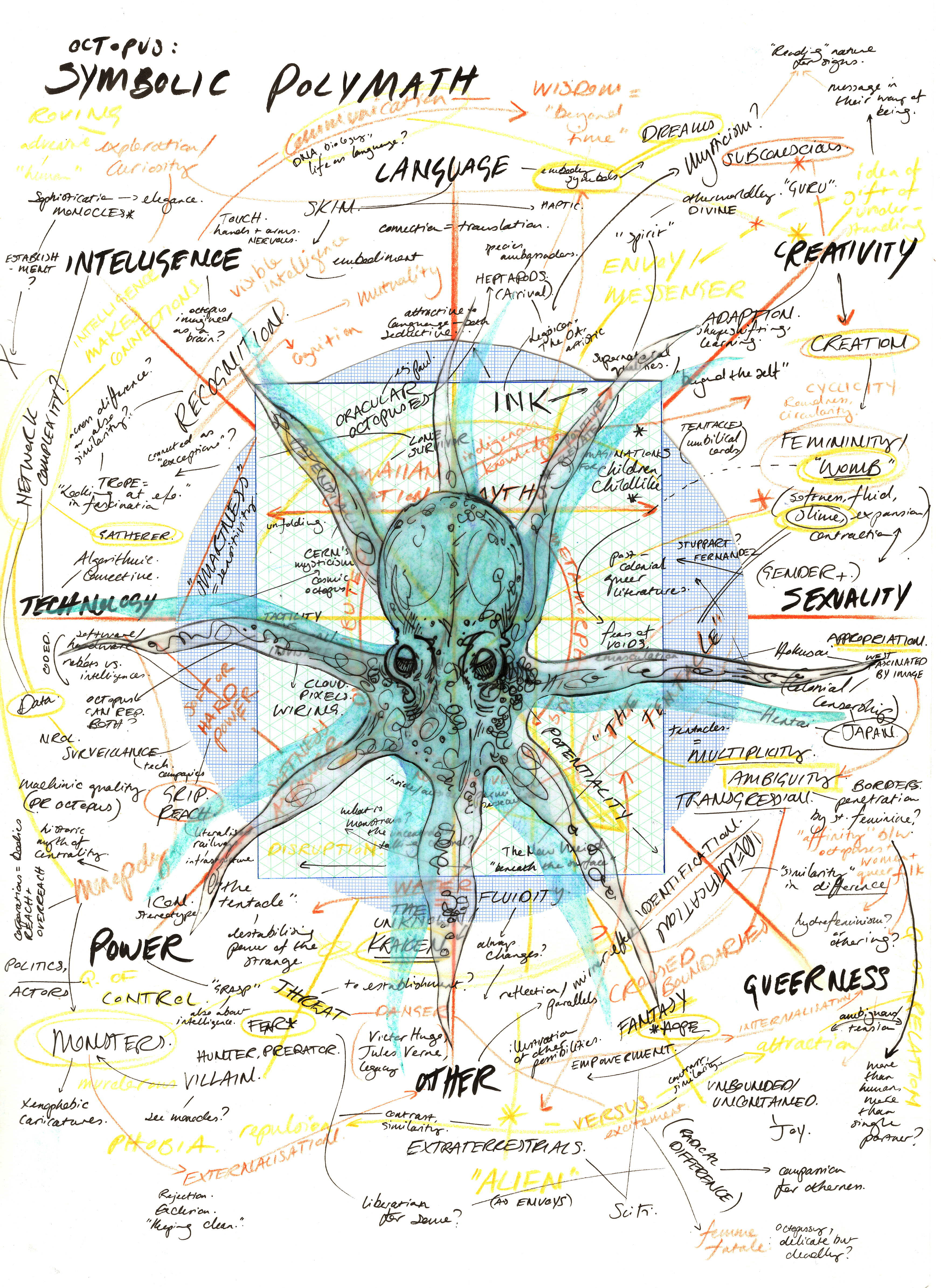 Images: Fiona Glen