Image: Open Culture: No Borders campaign, Pollination
Boundless + Transmission


Two poems written on the invitation of Pollination, a London-based music platform celebrating music as a tool for self-expression and positive change. Boundless and Transmission were both part of Pollination's 2021 Open Culture: No Borders campaign, which aimed to share information about the Anti-Refugee Bill passing through Parliament, to express the vibrancy that represents the UK's diverse culture at its best, and to make a statement of welcome in opposition to the Tory government's hostile environment policies. The OC:NB campaign created an exchange between writing, visual art and music. Four illustrators responded to stanzas within Boundless, creating risograph prints which were sold online and at the fundraising event which launched the OC:NB compilation. All profits go to Kent Refugee Action Network, an organisation which helps young refugees build their lives in the UK.

Prints and the fundraising compilation can be bought here.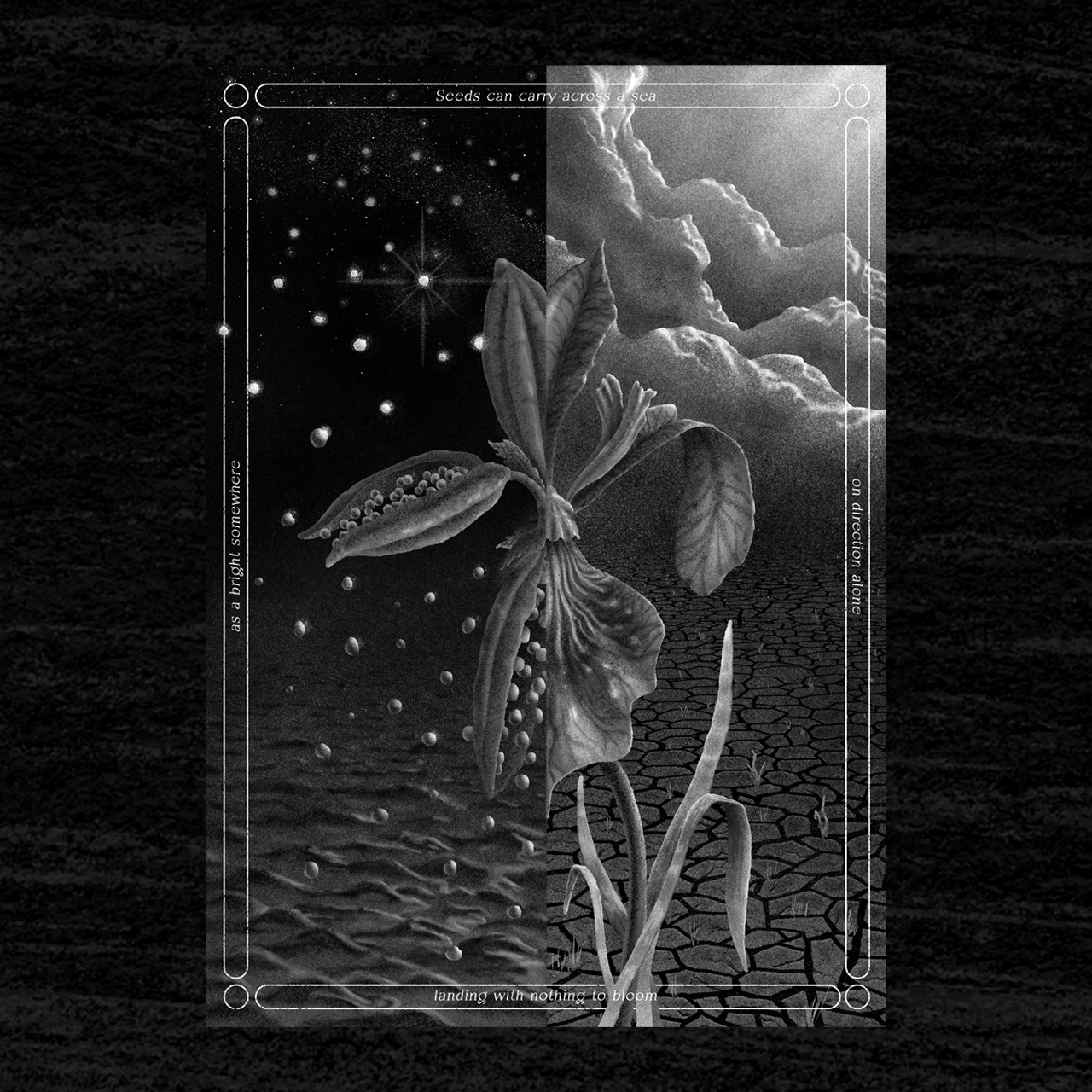 Images: artworks by Nicolas Piergollini and Bugbwoi
Boundless:


Seeds can carry across a sea on direction alone
landing with nothing to bloom as a bright
somewhere.

Pollen accents the hearts of flowers
trading the keys to colour on those same winds.

Any wilderness is simply a tangle of many
who put down roots in shared grounds.

We pass understanding strand to strand
like trees speaking a language of exchange
sung through threads spun out in darkness, light
with all the strength of a forest.




Transmission:


We feel
how music moves through our bodies, humming
between muscle memory soul and bone, unbound
like the bass reverberating in our skin: rhythm, a kinship
of shared space and sound.

We taste
how we bake one another's stories into our bread
passing histories across tables where words dissolve like salt
into tongues and new languages bloom
from the meeting of worlds.

We know
that neighbourhood really means a state of closeness
in a nation built on crossings, forever multiple, where we live
as a gorgeous cacophony of difference and refuse to be forced
to a single, false note.

We build
our culture as a home with open doors:
a place where peace is loud, outrageous, alive.
And we will keep on dancing here, welcoming everyone
to defend kindness with all our raw joy.