CV



Publications

New work forthcoming with Prototype 5, Pala Press and Footnote Centre.

2023 – 'Evolving Food Traditions', conversation with Maia Magoga for ACV Magazine, Tradition
2023 – 'the cat which is wild, savage, or of the woodlands', creative prose, FDBNHLLLTTFMOURNING, Sticky Fingers Publishing
2023 –

'Vergankelijkheidswake' / 'Guarding Transience', drawings in collaboration with Miek Zwamborn + poetry, De Gids


2023 – 'Palettes of the Gods', art writing/essay, My Daughter Terra anthology, ed. Nina Hanz, Plaintiff Press
2022 – Mycoglossia,

poetry pamphlet in collaboration with Nina Hanz, HVTN Press


2022 – 'She is the knot that always slips', prose poem, Daisyworld Magazine Issue 005: Dangerous Depths
2022 – 'www.dreamoracledivine.xyz', experimental text, FDBNHLLLTTFPARODY, Sticky Fingers Publishing
2022 – feature on Libby Heaney, CLOT Magazine
2022 – interview with Howardena Pindell, Twin Magazine
2022 – 'Forget the Metaverse; It's Time for Artists to Enter the 'Mutaverse', ArtReview
2022 – 'On Alberto Balsam', poetry, You've Got So Many Machines, Richard!, an Aphex Twin anthology, Broken Sleep


2022 –

'Through Hagstones', drawing, Blue House Journal: Stone


2022 –

'seawitch, I watch you', experimental essay, SPAM Plaza


2021 –

'Inscribing the Devil Fish', essay, 3:AM Magazine


2021

– 'membrane exchange', The Digest Reader, zine supported by TACO!


2021 –

'wolfish / this heart is', poetry, FDBNHLLLTTFNOCTURNAL, Sticky Fingers Publishing


2021 –

'Yeast & Headtail', poetry, Tentacular Magazine


2021 –

'Grinding, slicing, tearing', experimental fiction, DreamsTimeFree: Soft Tissue, TACO!


2021 –

'Meat Dreaming', experimental drawing and writing zine, Sticky Fingers Publishing


2021 –

'(un)like death warmed up', essay, Dark Mountain 20: Abyss


2021 –

'SLIMY, STICKY, SWEET', essay and video (from conference presentation), SPAM Plaza
2021 –

'

As Syrup', poetry, AWW-STRUCK, Poem Atlas


2021 –

'Three Poems', FDBNHLLLTTFHORROR, Sticky Fingers Publishing


2021 –

'Intertitles', experimental writing anthology review, MAP Magazine


2021 –

'Leaves, alive and otherwise', essay, Still Point Journal


2020 –

'Sharing Grounds: A Commonplace', review, 3:AM Magazine


2020 –

'Contagion Closer to Animal', poetry collaboration with Nina Hanz, ARC


2020 –

'Distant Tenderness: Molly Morphew', review, ArtDaily


2020 –

'A pissing match over tigers', long-form poetry, The Pluralist


2020 –

'Pipe Down', fiction, Attention anthology


2020 –

'Contact', photography series, ARC Magazine


2020 –

'Heal Underfoot', essay, Simulacrum Journal


2020 –

'Eco-Visionaries', long-form review, Art & the Public Sphere


2019 –

'Primordium' – performance script – Arvid&Marie


2019 –

'Turning', letter, Letters to the Earth anthology, HarperCollins


2019 –

'Welcome to Elsewhere', essay, NOIT Journal, Flat Time House


2019 –

'Weighting', poetry and prose, Le Grand Kanthology


2019 –

'The Present Moment: Sonic Acts', review, Aesthetica

Commissions



2023 –

'delimiting', prose, To Be We Need to Know the River, (forthcoming)


2022 –

'surface as vessel', poetic essay, Dark Mountain Issue 22 – ARK


2022 –

'Undergoings', long-form essay, Pala Press: Subteranne


2022 –

'From the Ends of the Earth', essay, IOU Theatre


2022 –

four poems for accompanying publication, Sink or Float, solo exhibition of Jessica Wetherly, Aspex Portsmouth


2021 –

'fable', text for catalogue of Jessica Wetherly's exhibition, Tele(gram): frequencies of the forest (Bilbao)


2021 –

'boundless' + 'transmission', poems for Pollination's refugees welcome campaign, Open Culture: No Borders


2020 –

'Gently as our days bite', 11-part micro-fiction series, Robert Young Antiques
2020 – 'The Best Park Ever', hand-drawn map and text, HORRID! Covid 4: The Park


2019 –

Ground Up, 18-minute audio work commissioned by ICA / BBC New Creatives


2019 –

'<>', text response to Jessica Wetherly's RCA MA show, Laboratory

Events & Workshops



2022 –

HUM MURMUR MUTTER, five-week experimental writing course, Camden Art Centre, London


2022 –

Inside Your Mouth Are Mountains, three-week experimental writing course, Camden Art Centre, London


2021 –

A More-Than-Human Story, ecological writing workshop, Baker Street Productions, online


2021 –

Gut Feelings: Voicing the Visceral, three-hour experimental writing workshop with Esme Boggis, TACO!, London


2019 –

You Enter Into a White Room, three-day art writing workshop with Harri Welch and Lucy Holt, AcrossRCA, London


2019 –

Playing Houses, (project manager) three-venue day programme, Flat Time House, London


2016 –

*immersions, curating screening series spotlighting Levantine moving image artists, Al Ma'mal Gallery, East Jerusalem

Group Exhibitions & Showcases



2023 –

Drawing In, collaborative drawings with Miek Zwamborn within open call element of exhibition, An Tobar (Isle of Mull, UK)


2022 –

JE SERAI t.a.on meilleur.e.x ami.e.x, drawings & writings, Non-Étoile (Paris, FR)


2022 –

Octopus's Garden, recorded poetry for group exhibit with Knockvologan Studies, De Vishal (Haarlem, NL)


2021 –

Magical Octopus Sequel, cyanotypes & audio for group show, Knockvologan Studies (Isle of Mull, UK)


2020 –

Small Talk, My Animal, curatorial text & audio piece for group show (online)


2020 –

Letters in Lockdown, letter on lungs read by Jessica Hynes for Culture Declares (online)


2020 –

Current Transmissions, Ground Up shown as part of ICA x New Creatives showcase, ICA (London, UK)

Residencies & Artist Laboratories



2023 –

Footnote Centre for Image and Text, Belgrade


2019 –

Cartographies of the Vanishing Now with FIBER, Amsterdam

Readings, Presentations & Panels



2022 –

Slime, Sublime, Sublimation,with Esther Leslie, Krystle Patel and Maybelle Peters, The Horse Hospital, London


2022 –

Autumn Party, Sticky Fingers Publishing, The Glory, London


2022 –

Still Point writers' showcase, Reference Point, 180 The Strand, London


2021 –

Winter Party, Sticky Fingers Publishing, The Glory, London


2021 –

A Handful of Sinister Scenarios (AKA Jump My Bones), opening, Florence Trust, London


2021 –

Mouth Parts, group show curated by Molly Morphew, St Margaret's House, London


2021 –

Write the Earth, Baker Street Productions for Reading Climate Festival, Reading


2021 –

Aww-Struck: Creative and Critical Approaches to Cuteness, University of Bristol & Royal Holloway, online


2020 –

Creature, Stranger, Monster, Other, panel discussion chaired by Dame Marina Warner, RCA2020, online


2020 –

Obsessed! panel discussion chaired by Sally O'Reilly, RCA2020, online


2020 –

Attention! anthology launch, Morocco Bound, London


2019 –

Le Grand K broadcast by thisistomorrow, World Metrology Day, Science Museum, London


2019 –

Le Grand K anthology launch, Gossamer Fog, London

Book Copy-Editing & Proofreading



2021

– My Daughter Terra (published 2023), partial copy-edit


2019 –

Attention! anthology (published 2020), partial copy-edit

Education



2020 –

MA Writing, Royal College of Art (UK)


2017 –

BA International Studies, Leiden University (NL)


2013 –

International Baccalaureate


~~~~~~~ page coming into existence soon ~~~~~~~
~~~~~~~ page coming into existence soon ~~~~~~~
~~~~~~~ page coming into existence soon ~~~~~~~
Image: Honeysuckle Collective, 'Omnibus', ICA, November 2019, Fiona Glen.
You Enter into a White Room...


Three-day art writing workshop aimed at practice-based students at London's Royal College of Art, co-led with Harriet Welch and Lucy Holt. You Enter into a White Room... was part of the November 2019 edition of AcrossRCA, the RCA's annual cross-college programme of student- and alumni-led events and workshops.

Taking its title from Ghislaine Leung's artist text for Constitution, her solo show at the Chisenhale Gallery in Spring 2019, the workshop encouraged Masters students with a diverse range of arts backgrounds (from sustainable textile development to painting to archival design research) to open their writing into more experimental forms.

Over the three days, all participants collaboratively close-read contrasting texts, wrote from unfamiliar images and from 'Omnibus' (the ICA's Honeysuckle Collective retrospective), co-edited their texts, and collated them into three flash publications.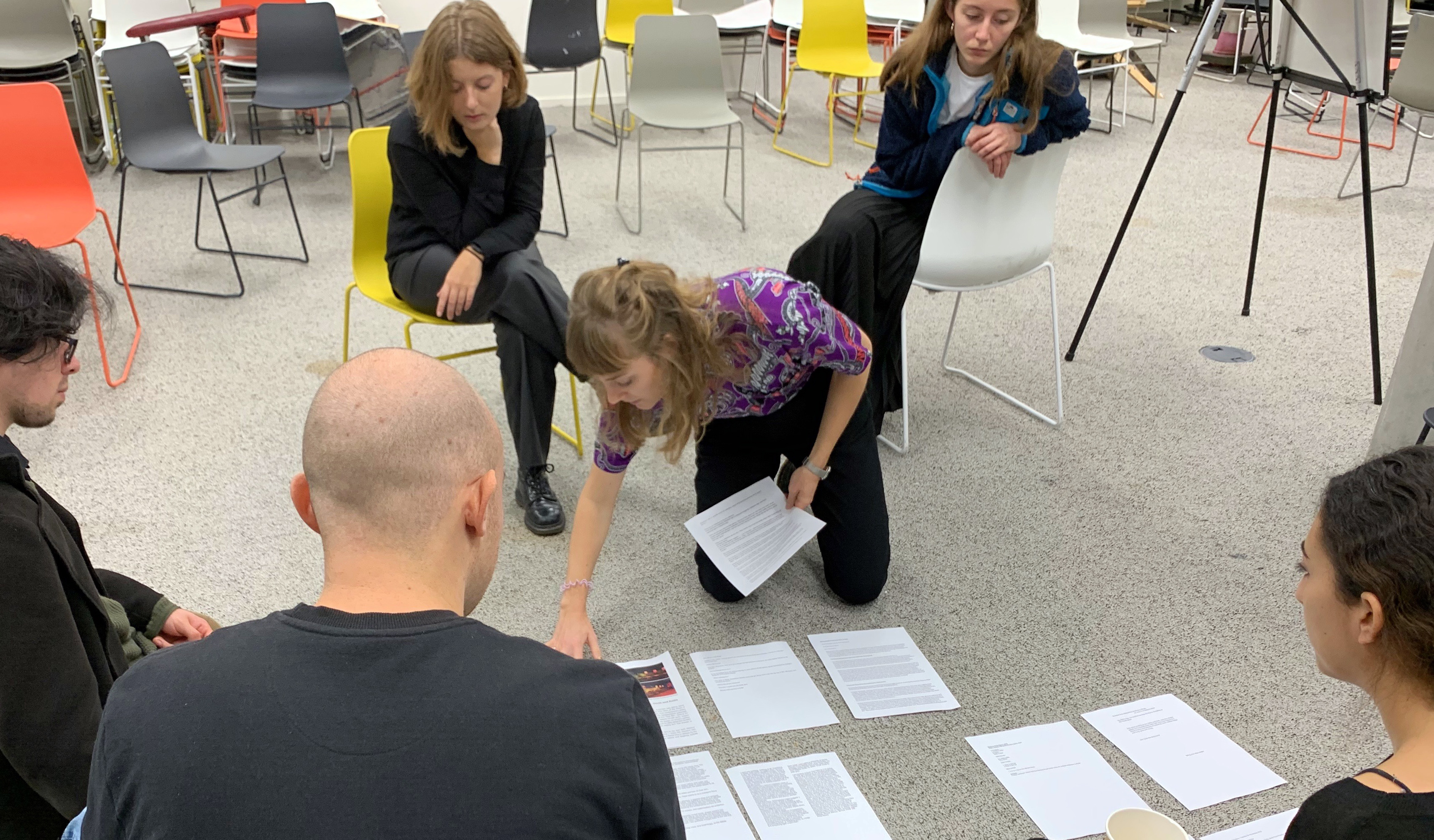 Images: Lucy Holt, Fiona Glen.

Image: design by Alec McWilliam of
Boon Studio
Playing Houses


Full-day multi-venue arts event hosted by first-year MA Writing students at London's Royal College of Art, project managed by Fiona Glen. As part of a collaborative project with Flat Time House, we considered issues of domesticity, hospitality, and welcome as we programmed and facilitated artist demonstrations, writers' seminars, performances, talks, and a 'pub quiz' full of the unexpected.



What happens on the threshold where the home and the public meet?

What kind of face does a place need to put on to become public-facing – and how can it express welcomeness and be welcomed?

When a house tries to make itself hospitable, what happens to us inside?


Playing Houses spanned three neighbouring cultural venues in Peckham, London: Artist Run, Peckham Liberal Club, and Flat Time House (the foundation and former home of John Latham). Collaborating artists included Sally O'Reilly, Megan Rooney, Audrey Reynolds, David Raymond Conroy, Lucy Vann, and Daisy Hildyard.





Images: Ludovica Colacino & George Lynch


Flat Time House TV

Reception Room,
Audrey Reynolds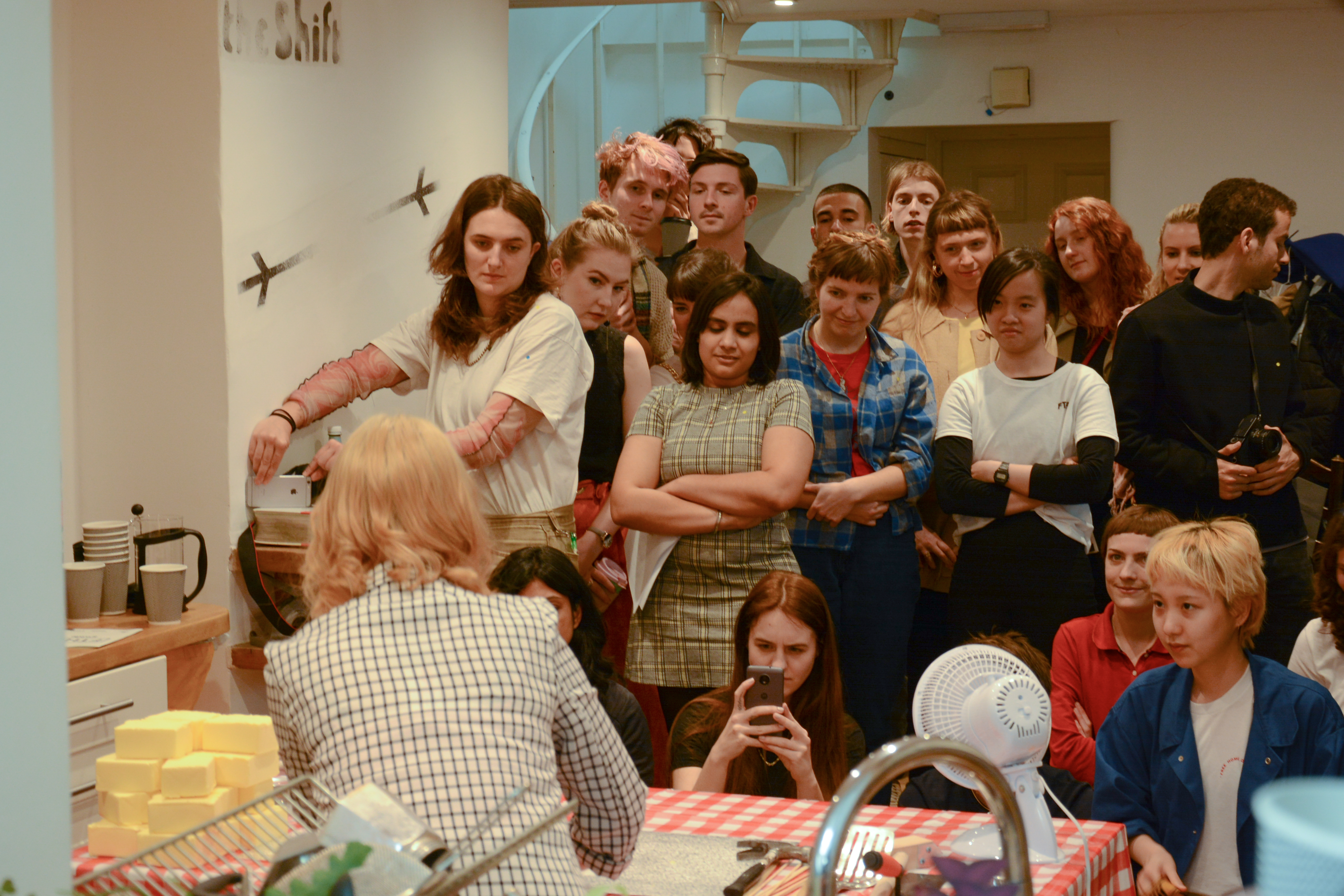 Curdled
, Esme Boggis
TAP TAP inside the body,
Megan Rooney
---
Full programme:

Flat Time House

Reception Room: A reading and writing seminar with Audrey Reynolds
Through the interleaving of texts and experiences this seminar will be used to produce new experiences and texts. Participants will engage with a selection of texts and audio that address some matters relating to dominions and domains, will and welcome, and public and private thresholds. Artist and writer Audrey Reynolds will present her own writing and audio work interspersed with a selection of poetry and prose extracts by other writers. This will lead on to writing exercises focusing on, but not limited to, vignettes, prose poetry and interior monologues that examine the participants' experiences as potential guests, ghosts or imagined selves in Flat Time House.

Curdling: a performance with Esme Boggis
Join artist and MA Writing student, Esme Boggis, for a buttery performance in the kitchen of Flat Time House, which will attempt to interpret 1970's German-written cookbook – Buffets and Receptions in International Cuisine. The performance will enter a space of greasy re-enactment, slippery methodologies and muddied mistranslation to explore the inefficacies of effect and representation.

Flat Time House TV
Daytime TV for the curious: a specially selected afternoon of programming responding to the theme of 'Playing Houses'. Broadcasting contemporary short film, moving image and music videos from artists and filmmakers, plus footage from the Flat Time House archive. Drop-in-and-drop-out all afternoon, grab a copy of the TV listings, help yourself to free tea and coffee. Featuring John Latham, Laure Prouvost, Sam Wiehl, Pathé Film, and many more.

Radio
Architectural Association's Independent Radio hosts the Royal College of Art's MA Writing programme for an evening meal. This show is a pilot of a series that will discuss how cultural institutions operate domestic spaces as their functional 'homes'. Governed by the implicit rules of politeness, table manners and decorum, but keeping within the expectations of their new institutional formations, the first broadcast dinner will 'air' on 30th March, during the Playing Houses event and will be available for listening at Flat Time House during the day.

Artist Run

TAP TAP: inside the body with Megan Rooney
My mother had a sign above the stove which read, "A tidy home is a sign of a misplaced life." Out of isolation or perhaps out of pure boredom, she included me in all her domestic activities. We were taking care of the "nest" but it wasn't our cage. The house provided us with a certain kind of freedom and we took liberties with it. In this performance lecture and making demonstration, Megan Rooney, an enigmatic storyteller whose work expands across painting, performance, written and spoken word, sculpture and installation, will engage with materiality and the human subject. Her work is deeply invested in the present moment: the festering chaos of politics with its myriad cruelties and the laden violence of our society, so resident in the home, in the female, in the body.

Artists' and writers' talks & performances
Three invited artists and writers give readings and performances on communication, habitation and the 'public' space - with subjects as diverse as the artist's archive, Tinder and the inside of a nuclear reactor.


Daisy Hildyard is a novelist and academic. She has a PhD on early-modern scientific writing. Her first novel Hunters in the Snow received the Somerset Maugham Award and a '5 under 35' honorarium at the USA National Book Awards. She currently runs a research project on animals and fiction at Northumbria University, and is working on a novel about nonhuman life forms. Her latest book, The Second Body, is an essay on the Anthropocene. She will host a reading of a series of short texts and extracts which consider how humans and other animals make habitat, from Kafka's The Burrow to the microbes who live inside nuclear reactors at Chernobyl and Fukushima. There will be time for response and discussion after the reading.


Lucy Vann studied at the Manchester School of Art before completing an MA at the Royal College of Art. She is an artist and part time lecturer on Graphic Design at manchester School of Art, and holds a studio at S1 Artspace. I've Come Here To Talk To People' is a monologue inspired by language used on dating apps such as Tinder, picking out tropes, one liners and moments of uncertainty used in biographies and conversation. The performance explores the presentation of the self and communication both on digital platforms and in public spaces.


David Raymond Conroy is an artist. His compositional works investigate the performance and construction of subjectivity, power and value within shared social space. He often assembles structures using objects, texts and images in order to investigate the relationships between desire and proposals of fidelity.
He will be exploring John Latham's archive, looking at the artist's extensive correspondence with the (art)world and his efforts to support and publicise his work without compromising his vision.


Peckham Liberal Club

Playing Houses Pub Quiz
In the evening, guests are invited into Peckham Liberal Club to digest the daytime's thoughts, events and conversations at Playing Houses, and participate in a 'pub quiz'. Guests can write, discuss and relive the day's activities in a quiz format. But unlike most quizzes, you may be asked to craft materials in your team or to write responses to esoteric, unanswerable questions – not necessarily answer, but to respond. Playfully, and with special guest hosts, the quiz will activate responses in the third and final venue of the day, asking questions of encounters in space and the unpredictability of what occurs in these situations.

Image: Fiona Glen, taken at Al Ma'amal.

*immersions

Short series of film screening evenings, curated and organised by Fiona Glen as part of a Programming Internship at Al Ma'amal, a Palestinian contemporary art foundation based in an historic ceramics factory in the Old City of Jerusalem, June-August 2016. *immersions included a feature-length screening of Jessica Habie's Mars at Sunrise, and a rooftop screening evening of seven short films produced by artists from Syria, Lebanon, Jordan, and Palestine.




Curatorial text:

Immersion: a state of escape, a state of suffocation.
Citizens (or not) of states which engulf and bind, how do Levantine artists portray political claustrophobia and demonstrate the relieving power of the imaginative and innovative? The conditions of life 'submerged' in troubled political environments are explored by filmmakers from Palestine, Lebanon and beyond. While each depiction of contemporary history is unique, this collection reveals a common language of emotive motifs, a shared experience of disillusionment and suppression. Together, these artists' work speaks of the interrelated abnormalities of national experiences in the bilaad ash-shaam: disruption, displacement and diaspora, alongside satire, strength of resolve and survival.


---

Works included in shorts screening (all artist liaison by Fiona Glen):


Sea Level, Khaled Jarrar. Palestine.
Rounds, Khalil Joreige & Joana Hadjithomas. Lebanon.
Journey of a Sofa, Idioms Film, Alaa Al Ali. Lebanon/Palestine.
Condom Lead, Arab & Tarzan Nasser. Palestine.
Pink Bullet, Idioms Film, Ramzi Hazboun. Palestine.
The Diver, Jumana Emil Abboud. Palestine.
Off the Coast, Mahmoud Safadi. Lebanon/Canada.